The Etiuda&Anima International Film Festival is the oldest film festival in Poland that confronts the achievements of students of film and art schools from around the world and the achievements of artistic animation artists - both professionals, students and independent producers. The central, annual point of the event are two eponymous competitions, in which awards are given: in the student competition covering feature and documentary etudes - Golden, Silver and Bronze Dinosaurs, and in the competition of animation creators - Golden, Silver and Bronze Jabberwocks and additionally a Special Golden Jabberwocky' ego for the best animated student etude of the festival. In 2017, a third competition was added as a response to the environment of Polish creators and viewers - ANIMA.PL - a national short animation competition.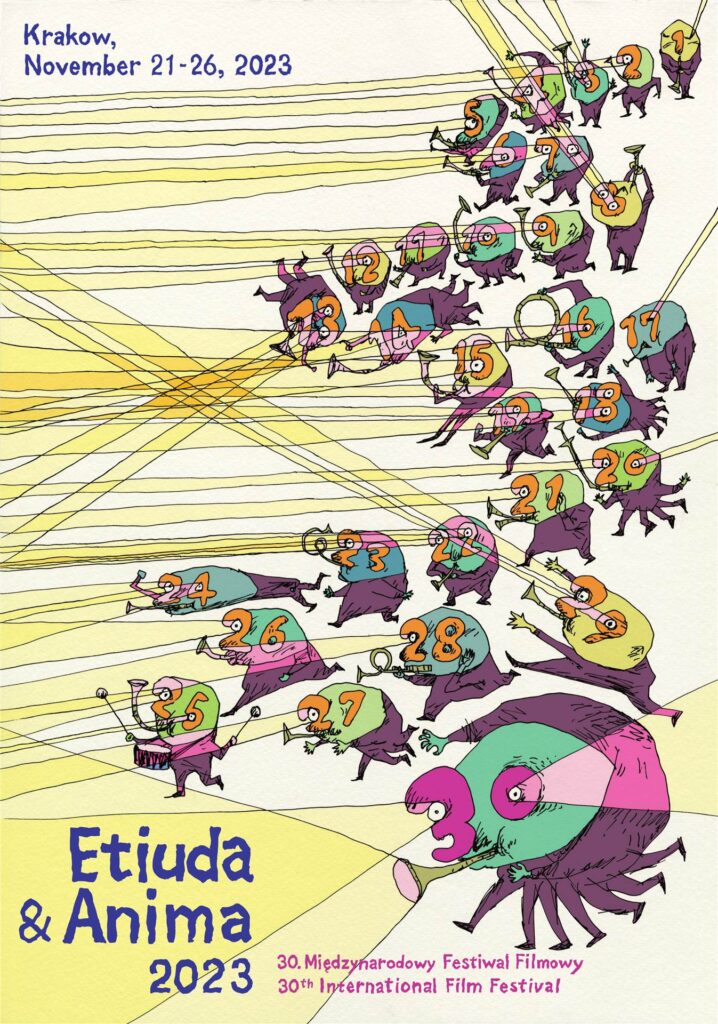 Every year, the Special Golden Dinosaur award is presented to an outstanding educator and at the same time an active, artistically successful artist. Our winners were Ewa Braun, Sławomir Idziak, Kazimierz Karabasz, Andreas Hykade, Martin Šulik. For many years, after the end of the festival, presentations of films awarded in Poland and abroad as part of the Traveling Etiuda&Anima event have been organized.
Since the beginning of the festival, the main points of the event have been surrounded by a rich program of accompanying events. During the last editions, they are primarily an opportunity to meet world-class animation artists and the most interesting phenomena in this field of creativity. As part of non-competitive events, viewers can also recall interesting film phenomena from the past of cinema, especially animation and documentary, as well as get acquainted with contemporary short and feature animated films that do not reach cinemas and are rarely available at festivals held in Poland.
The festival follows the careers of participating students, systematically presenting successive achievements, including, in particular, full-length films by former participants and winners. The most famous and respected feature, documentary and animated filmmakers who debuted at the Krakow event over the past decades include: Saša Gedeon, Bohdan Slama, Roman Vavra, Mark Najbrt, Julia Loktev, Aurel Klimt, Janez Lapajne, Tomáš Barina, Ülo Pikkov , Piotr Szczepański, Bert Gottschalk, Vaclav Švankmajer, Kim Hee-Jung, Denijal Hasanović, Groó Diana, Palfi György, Michal Struss, Leszek Dawid, Marcin Wrona, Bartek Konopka, Jonas Geirnaert, Filip Marczewski, Anna Kazejak, Agnes Kocsis, Agnieszka Smoczyńska , Grzegorz Muskała, Milagros Mumenthaler, Tomasz Jurkiewicz, Paweł Maślona, Jan P. Matuszewski, Thierry Palladino, Alli Haapasalo, Rafał Skalski and Viera Čákanyová. Among them is also Florian Gallenberger, Oscar winner (2001) for "Quiero Ser" - a film previously presented at the 7th IFF Etiuda in 2000.
The constantly evolving Etiuda&Anima International Film Festival has recently opened up to new media and other arts. At the same time, the festival expands its field of influence through program exchange with other, especially foreign, film events and the presentation in many countries of the world of series initiated under the cultural program of the Polish Presidency 2011. Polska Szkoła Animacji, jej satelici i kontynuatorzy oraz Polska Szkoła Animacji – następne pokolenia, jak również poprzez przygotowywanie corocznej, wakacyjnej imprezy plenerowej Krakow Summer Animation Days.
The official website of the Etiuda&Anima Festival:
https://etiudaandanima.pl/en
Krakow Summer Animation Days official website:
http://www.ksad.pl