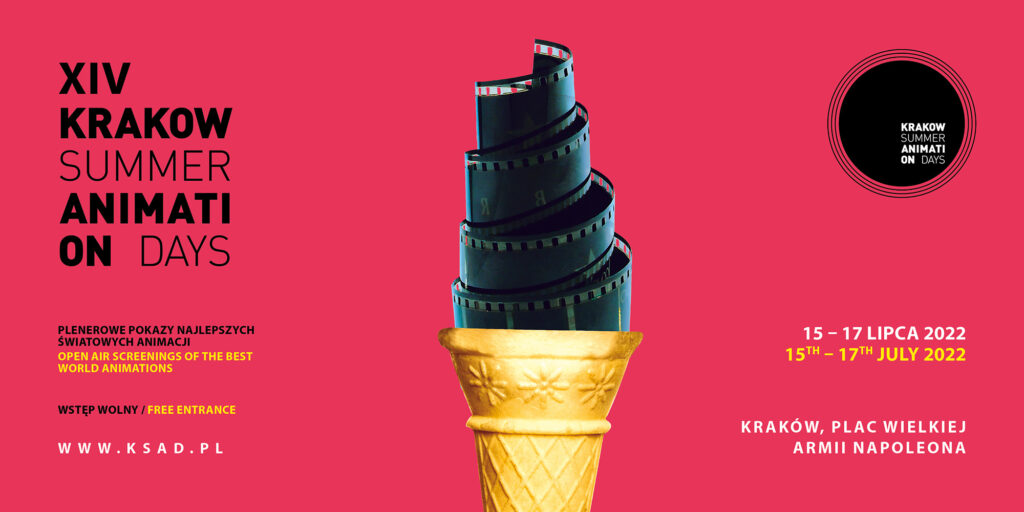 Krakow Summer Animation Days (15-17 lipca 2022) to plenerowa impreza filmowa, od 14 lat wzbogacająca ofertę kulturalną Miasta Krakowa w okresie letnim w naturalnej scenerii, sali kinowej pod gołym niebem - na placu Wielkiej Armii Napoleona pod Wawelem.
Rozpoczynające się co wieczór o godz. 21.30 seanse filmowe wypełnia różnorodny program filmowy na który składają się w znakomitej większości nieznane w Polsce filmy. W tegorocznym programie będzie można zobaczyć estońskie animacje kontrowersyjnej artystki Chintis Lundgren oraz najnowsze długometrażowe animacje: "Gdzie jest Anne Frank" izraelskiego reżysera Ariego Folmana (2022) czy "Dozens of Norths" japońskiego twórcy animacji Koji Yamamury (2021). Przedstawimy też animacje wyjątkowych krakowskich artystek: Darii Rzepieli, Darii Godyń, Ewy Borysewicz, Betiny Bożek, Wioli Sowy, Katarzyny Agopsowicz i Marty Pajek. Przed projekcją odbędzie się spotkanie z artystkami, które opowiedzą widzom o swoich różnorodnych ścieżkach kariery.
Poza tym zaprezentowane zostaną filmy animowane nagrodzone podczas 28. Międzynarodowego Festiwalu Filmowego Etiuda&Anima oraz 15. Festiwalu Animator.
16.07 odbędą się też warsztaty animacji dla dzieci i młodzieży - będą to warsztaty dla dwóch grup wiekowych prowadzone przez Pigeon Studio z Krakowa.